Ladies, don't let your slow boyfriend ruin your workout.
Varsity Punks offers seven tips so you can bring your out-of-shape boyfriend along and still get a quality workout.
 1. Back & Forth Running

Go ahead and run your fast pace, leaving your boy toy behind. After 5 minutes, run back to check up on your guy. That way you see each other throughout the run, and check up on him, making sure he hasn't rolled his ankle or anything (you know how clumsy he can be).
2. Stairs or Bleachers

Pick a spot to do stair repeats. Don't worry about smokin' him; he'll enjoy the back view every time you pass him.
3. Treadmill Day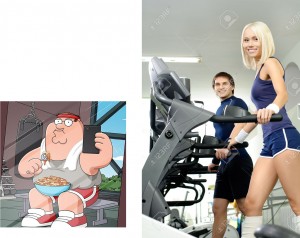 Flip the script on those dread-mill runs. Running in place for 45 minutes won't be so bad if you have that special someone next to you. Bring a towel for him. You know how much he sweats.
4. Bonding Time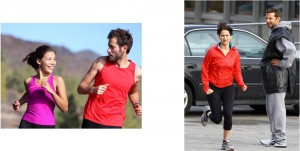 Long runs should be done at conversational pace. Take the time to catch up on each other's lives. (Slow guys: Let her do most of the talking and use up more energy). OR, challenge each other with friendly competition. The time will fly! Loser buys Slurpees.
5. Hard & Easy Day

Match up your pace by doing YOUR recovery run on HIS hard day. Be his super girl as you motivate him to maintain his hard pace. Help him get over the hump, and so he can soon look like a hunk.
6. Double Date Run
Couple that runs together, stay together. Invite another couple. The boys can catch up about guy stuff, while you team up with fast girls to hit some fast marks. Everyone wins.
7. Track Intervals

Let him rabbit your runs. If you're doing 1200m repeats, he can jump in for the first (or last lap) at your pace and drop out. That way, he helps you stay on pace, and pushes himself for increased speed as well.
FINAL THOUGHTS…it's all about motivating each other. Here's some extra motivation.